Uncle Dan's Crispy Chipotle Chicken Bites with Garlic Dipping Sauce
Recipe By: Uncle Dan's
Serving Size:
2-4 servings
Uncle Dan's Crispy Chipotle Chicken Bites with Garlic Dipping Sauce are perfect for those who love a mix of textures and flavors. The chicken bites are coated in a flavorful crust of Uncle Dan's Chipotle Ranch and Panko crumbs, then fried until golden brown. The tangy, creamy Mediterranean Garlic dipping sauce is the perfect complement to the crispy, savory chicken. Whether served as a party appetizer or a main dish, these chicken bites are sure to impress.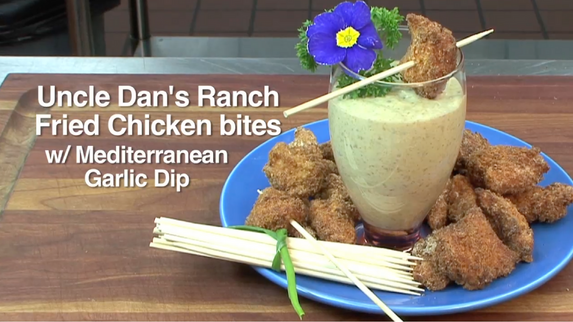 2 chicken breasts, cubed
½ - 1 package of Uncle Dan's Mediterranean Garlic (to taste)
½ - 1 Cup Artisan Mayonnaise (or regular mayo)
½ - 1 Cup Sour Cream
½ - 1 Package Uncle Dan's Chipotle Ranch (to taste)
2 cups Japanese rice flour (or gluten-free almond flour)
2 cups Panko breadcrumbs (optional)
2 eggs
To prepare the dredge, mix Uncle Dan's Chipotle Ranch with 2 cups of rice flour and place this mix on a plate. On a separate plate, put the Panko crumbs. In a bowl, beat two eggs well.
Dredge the cubed chicken in the rice flour mixture, roll in the beaten eggs, and then roll in the Panko crumbs.
Prepare the dipping sauce by mixing Uncle Dan's Mediterranean Garlic with 1 cup of artisan mayo and 1 cup of sour cream. Set this aside. Tip: For best results, prepare the Uncle Dan's dip the day before.
Fill a frying pan with oil approximately 1" deep. Heat the Canola oil, rice oil, or grapeseed oil to 350 degrees F.
Fry the chicken bites until they are cooked throughout and have turned a golden brown color.
Serve the crispy chicken bites with the prepared dipping sauce.