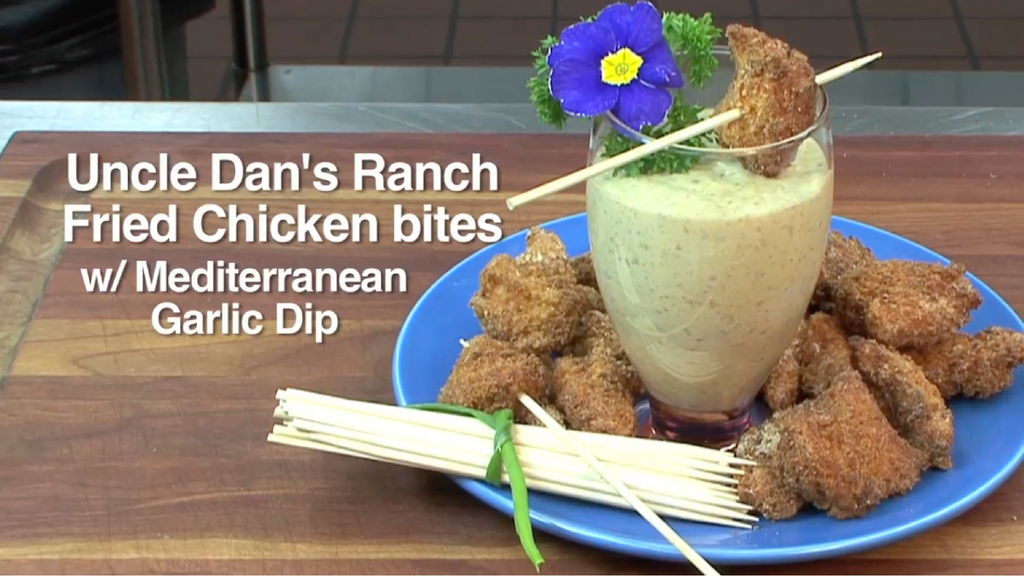 Delicious chicken bites with a delicious dipping sauce!
Serves 2-4
INGREDIENTS:
2 chicken breasts, cubed
½ - 1 package of Uncle Dan's Med Garlic (to taste)
½ - 1 Cup Artisan Mayo (any specialty store should have these OR use regular mayo)
½ - 1 Cup Sour Cream
½ - 1 Package Chipotle Ranch (to taste)
2 cups Japanese rice flour or (gluten-free almond flour)
2 cups Panko breadcrumbs (optional)
2 eggs
DREDGE INSTRUCTIONS:
Mix Uncle Dan's Chipotle Ranch with 2 cups rice flour. place this mix on a plate. On a separate plate put Panko crumbs. In a bowl place two eggs and beat well.
Dredge Cubed Chicken in rice flour, roll in egg wash, roll in panko crumbs.
DIPPING SAUCE:
The great thing about Uncle Dan's is you can mix it to taste. We will be giving FULL package mixing instructions here but you can alter these to your taste. TIP: Make Uncle Dan's the day before.
In a bowl mix Uncle Dan's Mediterranean Garlic (or your favorite UD flavor) with 1 cup artisan mayo and 1 cup Sour Cream. Set Aside
COOKING INSTRUCTIONS:
Fill fry pan with approx 1" deep oil. Heat Canola oil , rice oil or grapeseed oil to 350 degrees F.
Fry until cooked throughout. Should be golden brown in color.
Serve with Dipping Sauce